Our Historical Rosenwald School
"Education is not a thing apart from life - not a 'system' or a philosophy; it is direct teaching how to live and how to work."
—Booker T. Washington
---
This Building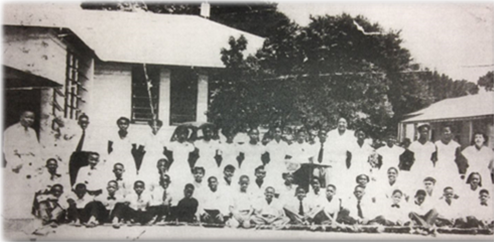 This building was constructed between 1922 and 1923 as part of the Rosenwald School project and opened as the Cocoa School, serving African American students. Noted educator and civil rights activist Harry T. Moore began teaching here in 1925.
Originally a four-teacher school, the Cocoa School (also known as Cocoa Junior High School) was expanded between 1923 and 1924 to be a five-teacher school, and expanded again between 1928 and 1929 to accommodate seven teachers.
This structure became Monroe High School in 1947 when it began to serve African American students in grades 10 through 12. The school was renamed in honor of Mrs. Jessie Ruth Monroe, former principal of Cocoa Junior High School. In 1954, Monroe High School moved to a new, larger facility just down the street. Monroe High School closed in 1968 when nearby Cocoa High School was desegregated in response to the Brown v. Board of Education U.S. Supreme Court decision that called for the integration of public schools.
---
Rosenwald Schools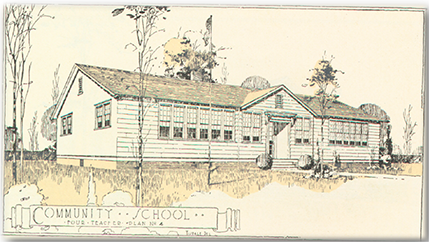 The Rosenwald School project originated as a partnership between African American leader Booker T. Washington, founder and president of the Tuskegee Institute, and Jewish American clothier Julius Rosenwald, part owner and president of Sears, Roebuck and Company. Almost half a century after the end of slavery in the United States, Washington and Rosenwald recognized a need to improve educational opportunities for African American students, particularly in southern states.
For 20 years, between 1912 and 1932, the Rosenwald School project was responsible for building more than 5,000 schools in 15 southern states, 126 of them in Florida. This building is one of only a few Rosenwald Schools that still exist in the state.
The architectural plans for Rosenwald Schools were designed to maximize the use of space, with large windows to provide natural light. The project provided the architectural plans and partial funding to build the schools, but required local communities and governments to raise a sizeable portion of the costs. Construction would not begin until all of the funds required had been raised.
---
Legacy

After this building ceased to function as a school, the City of Cocoa acquired the property and turned it into a community center. The facility was named the Harry T. Moore Center, and now houses the Leon and Jewel Collins Museum of African American History and Culture.
The museum shares this facility with the Alliance for Neighborhood Restoration, a not-for-profit organization providing leadership, resources, training, and opportunities to empower local youth and families to improve their quality of life and work toward self-sufficiency. The Cocoa Police Athletic League is a juvenile delinquency prevention program that provides athletic and academic activities to local youth.
With the Leon and Jewel Collins Museum of African American History and Culture, and the Alliance for Neighborhood Restoration, this former Rosenwald School continues its role as an active site for Black education and enrichment, and is an important resource for the entire community.