Early Life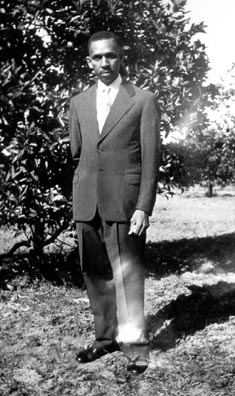 Harry T. Moore was a grassroots organizer and a pioneering Civil Rights activist with strong ties to Brevard County. Moore was born on November 18, 1905, in Houston, Florida in Suwanee County. He was the only child of Johnny and Rosa Moore. Johnny Moore died in 1914 when Harry was only nine years old. Soon after Johnny's death, Rosa sent Harry to live with one of her sisters in Daytona Beach. The next year, he moved to Jacksonville, where he lived for the next three years with three other aunts. His time in Jacksonville was a formative period that would influence his career as an educator and his future role as a Civil rights activist.
In 1919, Harry T. Moore returned home to Suwanee County and attended the high school program of Florida Memorial College. In 1925, at age 19, he graduated from Florida Memorial College with a "normal degree" for teaching in the elementary grades. Soon after, he accepted a teaching job in Cocoa, Florida, in Brevard County, at Cocoa's only black elementary school, Cocoa Junior High School. Constructed in 1923 during the era of segregation, it served as Cocoa's school for African American children until 1954.
In 1926, Harry T. Moore met Harriette Vyda Simms. She had been a teacher, but at that time she was selling insurance for the Atlanta Life Insurance Company, a major black-owned business. They were married on Christmas Day 1926. Both the Moores received college degrees from Bethune Cookman College, a historically black college in Daytona Beach. In 1928, their eldest daughter, Annie Rosalea, nicknamed "Peaches," was born. In 1930, their second daughter Juanita Evangeline was born.
Teaching the Importance of the Ballot
In 1927, Moore became principal of the Titusville Colored School, which went from fourth through ninth grades. He taught ninth grade. In 1933, twenty-eight-year-old Harry T. Moore's activism began when he taught his students at Titusville Colored School about the importance of the ballot. That was his passion. He brought sample ballots to his ninth-grade students with the names of the candidates and their stances on issues. That year, a friend gave Moore a pamphlet from the National Association for the Advancement of Colored People (NAACP). Moore took the pamphlet home and decided that the organization was the right vehicle for him to make a difference in the local community. He kept voting rights at the forefront of his mind.
In 1934, Moore organized the Brevard County NAACP chapter. At first, he focused on education and social issues. He increased the visibility of the NAACP with parades, meetings, free dinners, workshops, conferences, and other community activities. He drove all over Brevard County to attend meetings with black teachers, preachers, and orange grove owners to let them know about the organization. As an organizer, Moore relentlessly wrote letters, attended meetings, and arranged NAACP programs.
Moore's Activism Intensifies
In 1937, Moore fought for equal pay for African American teachers by participating in a lawsuit against Brevard County. John Gilbert, fellow teacher and member of the Brevard NAACP, was the plaintiff in the lawsuit. The Florida Supreme Court dismissed the case. The lawsuit was the first in the Deep South to attempt to equalize salaries for black and white teachers. It prompted similar lawsuits for equal pay in the South. The salaries of black teachers gradually improved due to the efforts of Moore and the NAACP.
In 1943, Moore became involved in a more dangerous kind of civil rights activism. He investigated lynching incidents in Florida and sought justice for the victims. Moore took affidavits from the victim's family members and wrote letters to the governor and other officials demanding justice. That year, he wrote a letter to Florida Governor Spessard Holland about the murder of Cellos Harrison, a black man who was lynched in Marianna, Florida, for a crime he likely did not commit. Moore wrote letters to national and local leaders urging a thorough investigation into Harrison's death.
The Progressive Voters League
In 1944, the United States Supreme Court ruled in Smith v. Allwright that African Americans could participate in Democratic primary elections. That year, Moore and other local NAACP leaders organized the Progressive Voters League (PVL) in Lake Wales, Florida. Moore organized a massive registration campaign with the slogan, "A Voteless Citizen is a Voiceless Citizen." Moore wanted to gain access to the Democratic primary for black voters in Brevard County. He hoped that teaching his students about the ballot during all those years would make a difference.
Moore divided his time between the NAACP and the PVL. The PVL gave Moore the chance to focus on voting rights for African Americans in Florida. Moore believed that voting was "a fundamental privilege." He thought that retaining the right to vote in the primaries would solve many of the problems faced by African Americans in the state. Moore's goal with the PVL was to open the primary vote for blacks in every county in Florida, to encourage African Americans to register to vote, and to provide the voters with recommendations on the candidates.
Trouble at the Poll
In September of 1944, the NAACP president in Old Town, Florida, W.L. Bryant, notified Moore that he was kept from registering to vote in the general election. The registrar told Bryant he was afraid there would be "trouble at the poll" if blacks voted. Moore wrote a letter to Governor Holland and informed him that the registrar refused to register black voters in Dixie County. In the letter to Holland, Moore said that voting was a "fundamental right of citizenship. If this privilege is denied, we have no true democracy." Moore wanted to make sure blacks could vote in the upcoming general election. To further make his point, Moore wrote to attorney L.E. Thomas to file a lawsuit against the registrar in Dixie County for voter disenfranchisement.
In 1945, Moore sent letters to the Florida delegation and the NAACP concerning support for equal employment, the passage of anti-lynching legislation, and anti-poll tax legislation. He also discussed travel issues for blacks in the Jim Crow South. Moore's letter referred to President Roosevelt's creation of the Fair Employment Practices Committee (FEPC). Moore believed a permanent FEPC should be put into place to protect workers from racial discrimination. On the subject of lynching incidents, Moore criticized Governor Holland for his weak response against "lynchers" in Florida. He discussed the indignity blacks faced while using the dual travel system of the interstate highway in the South. Moore's letter asserted that conditions for African Americans in the South had to improve for Americans to have a true democracy.
In 1946, Moore mailed questionnaires to the Democratic candidates and asked them their stances on several civil rights issues in the state. Moore and the PVL endorsed candidates based on their answers to the questions. Moore mailed out the endorsements to the local African American community. Congressional elections took place in May of 1946, and the Progressive Voters League was a serious threat to the white primary in Florida. A historic moment occurred on May 7th when thirty thousand African American Floridians voted in the Democratic primary. At that time, Moore gained a reputation as an agitator due to his political activism. Moore's persistent letters about African American issues in Florida annoyed state leaders like Governor Caldwell. Caldwell's executive secretary inquired about Moore to a local man on the Brevard County Commission named C. Sweet Smith. Smith described Moore as a "troublemaker and a Negro organizer." Smith indicated that Moore would soon be terminated from his teaching position for that reason.
Organizing for the NAACP in Brevard County
Subsequently, both Harry T. Moore and his wife Harriett were fired from their teaching positions due to Harry's civil rights activism. Moore's termination from his teaching job allowed him to become a full-time organizer for the NAACP office in Brevard County. Moore's termination made him more determined to fight for equal rights. He helped the organization gain visibility in Florida as he expanded Florida's NAACP from nine to sixty-three branches. Moore's office in Brevard County was the largest and most successful branch.
In January of 1947, Moore wrote a letter to NAACP members with an update concerning the recent accomplishments of the organization. Moore's letter stated, "Remember that freedom is always bought with a price. Let us therefore combine our forces and make a more determined effort to secure for ourselves a fuller enjoyment of our Constitutional rights." In the letter, Moore brought attention to recent incidents of police brutality in Florida and urged NAACP members to give money to the Florida State Conference legal fund to aid victims of discrimination in the state.
In 1947, Moore became involved in a political battle with Senator John E. Mathews. Mathews introduced a "white primary bill" that failed in the Senate. That bill sought to limit the membership of the Democratic Party. Mathews then introduced a second bill that required a literacy test in order to vote. It was a blow to the PVL's efforts to increase the number of black Democrats in Florida. Moore lobbied against the bill and sent out mailings to members of the NAACP and the PVL. In a letter to "Fellow Citizens", Moore asserted that Americans were not required to pass a literacy test to defend the country or pay taxes. Therefore, they should not have to pass a literacy test in order to vote.
Speaking out Against Literacy Tests and Lynching
Like many of Moore's eloquent letters, Moore's opposition to the literacy test found its way into the newspapers. In the newspaper article, Moore stated that literacy tests sought to keep undesirable people from voting. The proposed literacy test required citizens to be able to read lines from the Constitution. Moore argued that many blacks would have difficulty reading some lines of the Constitution because of deficits in black education in Florida. He felt that black students in Florida did not receive the same quality of education as white students and the literacy test would only further punish them for receiving a poor education.
That same year, Moore called for an anti-lynching law. He sent a letter to the Florida delegation asking for a "strong federal law against lynching and mob violence". Governor Caldwell received the affidavits Moore acquired concerning a missing black soldier, but Caldwell was slow in his response. Moore reminded the delegation of the latest acts of violence against innocent African Americans in Florida. There was only one arrest in the several recent lynching incidents in Florida. Moore asked the delegation how long African Americans would have to wait for states to take action on those issues. Moore said that human life was too precious to continue waiting for a solution.
Fighting for Voting Rights
In 1948, Moore sent "An Open Letter to Florida Negro Citizens". In it, Moore reminded African Americans of the approaching Democratic primary. The election was particularly important because thousands of African Americans could vote in the Democratic primary for the first time. Moore cautioned blacks about being "courted" for their vote. He also reminded them that some candidates would try to buy their votes with money or liquor. He warned them against being swayed by such gestures. Their vote was too valuable to be bought.
In 1948, Florida Democratic candidates contended in the gubernatorial campaign. The power of the Progressive Voters League was evident that year. The PVL registered seventy thousand black Democrat voters. Moore wrote a letter to Governor Caldwell and asked him to make sure that black voters were not intimidated at the polls. He asked Caldwell to alert the local sheriffs to protect the black voters. There were some incidents of violence at the polls, but overall the results were encouraging. Most of the candidates endorsed by Moore and the PVL won.
Moore wrote his last letter to Governor Warren on December 2nd, 1951. The letter demanded justice for black prisoners from the famous Groveland case. Two white officials shot the men during their transport from the Raiford prison to Lake County. Moore called for the suspension of the two officers. Moore complained that the word of an African American held no weight against the word of a white person. He reminded Governor Warren that black voters led to his election victory in 1948. Moore asserted that black voters did not want special favors. They only wanted justice, equality, and laws to protect them. Moore's last sentence ominously asked, "Shall we be disappointed again?" Moore's tone indicated that he was growing impatient with political leaders. He wanted them to pay attention to injustices faced by blacks in Florida.
The Ultimate Sacrifice
Moore's contributions to the Civil Rights Movement were cut short on Christmas Day of 1951 when a bomb planted under his bed killed him. His wife Harriette died a few days later from injuries sustained in the blast. No one knows exactly who placed the bomb, but subsequent FBI investigations pointed to members of the local Ku Klux Klan. People say Moore was killed because of his voter registration drive, his involvement with the NAACP, or his investigations of lynching incidents. It was most certainly because he was a fearless civil rights activist. Despite FBI investigations, no one was ever held accountable for the murders of Harry and Harriette. As a result of Moore's death, black voter registration plummeted, and NAACP membership declined.
In 2006, Harry T. Moore's briefcase was found in a barn less than a mile from the Moore home in Mims. Attorney General Bill McCollum said the personal documents of Moore "chronicle the Civil Rights Movement in Brevard County from 1937 to 1949. They have great historical significance." The documents from Harry T. Moore's briefcase revealed his dedication to the fight for civil rights in Florida. It contained hundreds of letters, newspaper clippings, programs, and fliers pertaining to civil rights issues. Most of Moore's correspondences concerned voting rights for African Americans in Florida. All the personal documents found in Moore's briefcase highlight his efforts to secure democracy for African Americans in his community.
Harry T. Moore's Legacy
Harry T. Moore's role in the Civil Rights Movement has often been overlooked by historians, but his contributions are numerous. More African Americans registered in Florida between 1948 and 1950 than at any other time. In 1950, half of the eligible African Americans in Brevard County were registered to vote. Harry T. Moore contributed to the increased number of black voters in Florida during that time. Between 1934 and 1951, he persistently fought for African Americans in Florida, particularly in Brevard County. Moore taught his students about the ballot, wrote letters, and organized voter registration drives. He investigated the mistreatment of black Floridians and brought a lawsuit against Brevard County for equal pay for black teachers. He registered more than one hundred thousand new black voters in Florida and investigated every lynching incident in Florida that occurred between 1943 and his death in 1951.
Harry T. Moore told his mother, Rosa, "If I die, I was only trying to help my people. If I go that way, I'll go as a hero. Somebody has got to do that work." Moore's efforts forced national and local leaders to respond to the issues of blacks in Florida. He motivated African Americans to exercise their right to vote. Moore fought for African Americans in his community before the well-known civil rights events of the 1950s and 1960s took place. Moore was not a charismatic speaker like Martin Luther King, Jr. He did not participate in bus boycotts, sit-ins, or marches. Instead, he used his typewriter to fight discrimination. Even though his name is not as recognized as other civil rights leaders, Harry T. Moore was one of the early catalysts for the Civil Rights Movement that emerged in the 1950s.