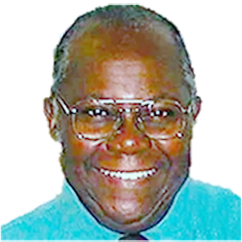 "This art, what you see as the Highwaymen art, it was not art for the sake of art, just to put beautiful stuff up. It was art for the sake of, in some cases, survival."
—R. L. Lewis
---
Artist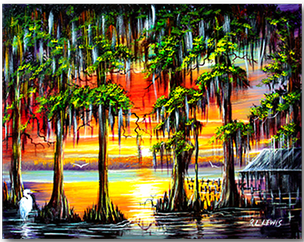 R. L. Lewis was born in Cocoa, the third of six siblings. His mother encouraged her young son's desire to sketch and draw. Lewis also enjoyed sports, but an injury during his junior year in high school resulted in his being assigned to art classes at Monroe High School in 1958, a few years after the school moved from this building to a newer facility just down the street.
Lewis's art teacher at Monroe High School, Mrs. Leisure, inspired him to develop his artistic talents. She gave Lewis an article about Florida Landscape Artist Harold Newton, a founder of the movement that would become known as Highwaymen Art.
R. L. Lewis is recognized by the Florida Artists Hall of Fame as one of the 26 original Highwayman Artists. While most of the Highwaymen (including one female painter) are from Fort Pierce, R. L. Lewis is the only one from Cocoa.
---
Educator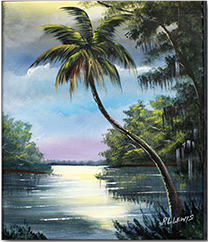 From Monroe High School, Lewis studied art in college, attending Edward Water College in Jacksonville, Florida; Syracuse University in New York; and graduating in 1966 from Florida A&M University in Tallahassee with a B.A. Degree in Art Education.
Lewis worked as an illustrator for Boeing after graduation. He taught Art Education classes in Brevard County for 32 years. He was a part-time art instructor at Brevard Community College (now Eastern Florida State College) from the late 1970s through the early 1990s. Lewis also taught for the Cocoa Village Art Adult Education Association for more than 10 years.
---
The HighWayMen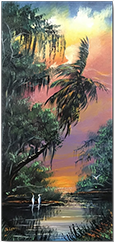 The Highwaymen artists are a group of largely self-taught African American painters known for their colorful Florida landscapes. The first Highwayman artist, Alfred Hair, was inspired by white landscape artist A.E. "Bean" Backus, who had a meticulous, detail oriented painting style. Hair also painted scenes of the natural Florida, but developed a rapid style of painting that allowed him to create beautiful works very quickly.
Hair shared his painting techniques with Harold Newton, who in turn, taught other African American artists. Backus was able to sell his paintings in galleries, but in the racially segregated Florida of the 1950s and '60s, the Highwaymen had to develop creative marketing strategies, including selling paintings to banks, offices, and along the side of the road.
The Highwaymen artists are known for their idyllic depictions of the natural Florida prior to development and urban sprawl. Their paintings capture marshlands, river scenes, beaches, sunrises and sunsets, Spanish moss hanging from cypress trees, brightly colored Poinciana trees, and Florida's indigenous wildlife.